DOCUMENTARIES AT CHRISTMAS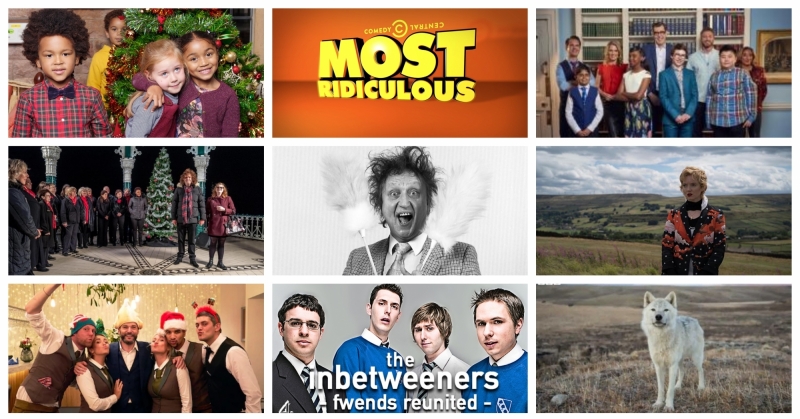 Old People's Home for 4 Year Olds Christmas Special narrated by Stephen Mangan
Wednesday 12th December at 9pm on Channel 4
We return to Lark Hill Retirement Village for Christmas as the pensioners and the children of Old People's Home for 4 Year Olds reunite to plan a Christmas party in order to raise awareness of loneliness at Christmas.
The special festive episode brings the gang – including Army veteran Victor Chanter and 102-year-old Sylvia Fairholme - back together for a week after six months apart, and sees them decorating a Christmas tree and enjoying a traditional Christmas dinner. As the children delight in being back with their older friends it's time to learn that Christmas can also be about giving to others. Can the nursery classmates persuade every resident living at Lark Hill retirement village to give one item of food for the local foodbank? Will tap-dancing Lilian be well enough to perform after a recent fall? And what will Victor make of the surprise appearance of fellow crooner, Alfie Boe?
Most Ridiculous Christmas Special narrated by Greg James
Friday 14th December at 8pm on Comedy Central
The strangest viral clip show around returns and it's the turn of fashion crimes to get the Most Ridiculous treatment. From catwalk chaos to photo shoot fails. We've got it covered.
The Undateables: A Festive Proposal narrated by Sally Phillips
Tuesday 18th December at 9pm on Channel 4
It's almost Christmas and some familiar faces have big plans. Lizzie and Joseph host their first festive party and Daniel has a special wish that only his girlfriend Lily can make come true.
Child Genius vs Celebrities Christmas Special narrated by Celia Imrie
Monday 24th December (Christmas Eve) at 8pm on Channel 4
Richard Osman hosts a Christmas special in which some of the cleverest youngsters featured on the series return to take on a team of celebrities in tests of spelling, maths and general knowledge. Jimmy Carr, Rick Edwards, Charlotte Hawkins and Shazia Mirza take on four formidably talented Child Geniuses in a battle of young versus not so young. Can the celebrities outwit the geniuses?
First Dates at Christmas narrated by Brian Protheroe
Tuesday 25th December (Christmas Day) at 9.15pm on Channel 4
The restaurant hosts the festive party to end all parties with a programme full of amazing surprises as maitre d' Fred and his Christmas Cupids celebrate a year that has seen love blossom. Forensic scientist Tom is 23 and would like a girlfriend at Christmas but admits to be clueless at dating. Librarian Louise, 28, is also an awkward dater and has never had a romantic Christmas. Will they make it through their festive faux pas to fulfil Louise's dream of 'His' & 'Her's Christmas jumpers and will Eric, who is 101, hit it off with Norma who hasn't had a partner in nearly a century.
Ken Dodd: How Tickled We Were narrated by Craig Charles
Wednesday 26th December (Boxing Day) at 9pm on BBC Two
Ken Dodd: How Tickled We Were explores the life and work of the man described by many as "the last great music hall entertainer". Sir Ken's performing career spanned over sixty years, from his first professional stage engagement in September 1954 to his final performance in his home city of Liverpool in December 2017. After his rapid rise to stardom he stayed at the top of British show business for six decades, with countless television series, radio shows, theatre tours, summer seasons and variety shows, as well as a hugely successful career as a recording artist. He was first and foremost a stage performer, and his work in the theatre ranged from pantomime to Shakespeare. His nights of stand-up comedy, still performed in theatres all over Britain until last year, became legendary for their duration. Ken Dodd: How Tickled We Were tells Sir Ken's story from his boyhood growing up in the 1930's in Knotty Ash, through his big break into show business and then on to his unrivalled career in entertainment. Poignant and uplifting, the programme features interviews with the people who knew Sir Ken best - friends and family in Liverpool and beyond, and his many colleagues, admirers and fellow-performers from the world of entertainment. The programme also features an interview with Sir Ken's wife, Lady Anne Dodd.
The Snow Wolf: A Winter's Tale narrated by Emilia Fox
Thursday 27th December at 9pm on BBC Two
Snow-Wolf is a dramatised natural history special for BBC Two, following the odyssey of an extraordinary mother wolf through the frozen heart of Europe. Deep in the Dolomites, a pack of wolves led by an alpha female and her mate have raised their family to become powerful and formidable hunters. But a tragic event turns their lives upside down, and the mother must flee the pack and embark on a perilous journey through the frozen Alps, in search of a new territory and a new life. On the way, she gives birth to six cubs which she must protect from humans and predators in what will be the biggest challenge of her life. Snow-Wolf tells the epic fight of an exceptional mother who, against all the odds, must survive and protect her offspring.
The Secret World of Emily Bronte presented by Lily Cole
Saturday 29th December at 6.05pm on Channel 4
Lily Cole is on a journey to discover Emily, the contrary, independent woman, on the 200th anniversary of her birth. To remain anonymous and avoid judgement, Emily's only novel, Wuthering Heights, was published under the androgynous pseudonym, Ellis Bell. Lily will leave no stone unturned as she investigates the novel's origins and its legacy today. Sitting down in conversation with her peers from the world of arts, music, literature and politics, she'll explore the parallels that exist today when it comes to women achieving equal pay, recognition and opportunity in their chosen profession. Using the Bronte's personal archive and stunning locations, Lily will find out more about the social & political context of Emily's life as she explores the creation of a work that has become an international bestseller and timeless classic.
The Inbetweeners- Fwends Reunited narrated by Miriam Margolyes
Tuesday 1st January (New Year's Day) at 9pm on Channel 4
Together again for the first time in years, Simon Bird, James Buckley, Blake Harrison and Joe Thomas AKA Will, Jay, Neil and Simon will be there every step of the way for an action packed, fun-filled celebration of 10 years of The Inbetweeners. The show will celebrate the huge cultural phenomenon of our four favourite teenagers and feature a succession of much loved faces from the cast of the massively successful tv series and films. Expect star interviews, fun games and clips of all our favourite Inbetweeners moments, as well as the first ever 'Inbetweeners Awards' plus many more surprises.
Back to News