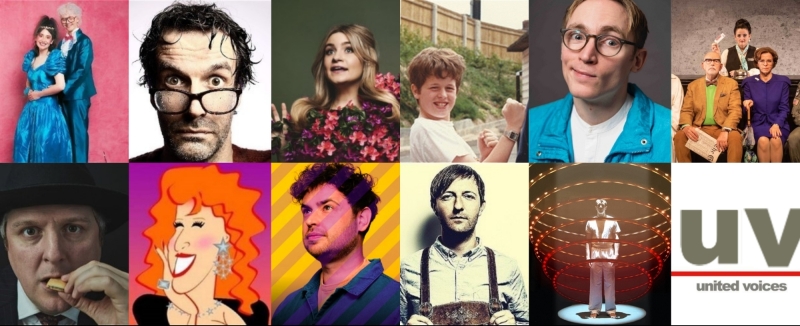 We have a great list of clients at this years Edinburgh Fringe:
Daniel Hoffman-Gill: The Great Almighty Gill
Date: Aug 3 – 29
Time: 13:15
Venue: Assembly George Square - The Blue Room
New Perspectives presents The Great Almighty Gill. Written and performed by Daniel Hoffmann-Gill. My Dad, Dave, died on 5 November 2015 of complications related to dementia. It was f*cking awful. But the eulogy I gave was brilliant. It deserves a bigger crowd. My way to see if from the molten wreckage of dementia some humanity, art and wonder can be salvaged. I f*cking hope so. Join Daniel as family and friends, to experience the legendary life and times of Dave through a tour-de-force autobiographical performance, part tribute, part stand-up with occasional lip-syncing. Contains strong language.
Date: Aug 3-29
Time: 13:30
Venue: Assembly George Square Studios - Studio Two
How can a soldier be trained to be a cold-blooded killing machine while clinging on to the threads of humanity? A Dantesque descent into the conundrums, contradictions and hypocrisies of war through the eyes of a convicted war criminal. Based on real events, this taut psychological thriller seeks justice from the collision of morality and empathy. A European Premiere from multi-award winning House Of Cards writer Bill Cain, directed by Olivier winner Guy Masterson (Morecambe, The Shark Is Broken), starring Joshua Collins, Samara Neely Cohen, Daniel Bowerbank, and Fringe favourite, Stage Award and multiple Fringe First winner David Calvitto.
Britney: Friends and Nothing More
Date: Aug 3 – 14, 16 – 28
Time: 17:45
Venue: Pleasance Courtyard (Pleasance Below)
Fresh from their universally adored BBC Three pilot, Charly Clive and Ellen Robertson make their long-awaited return to the Fringe with a sketch show about love. But which of these two girls will you fancy more? 'Ferociously funny' ***** (i-magazine.co.uk). 'Sweet, smart, refreshingly silly' (Guardian). 'Charming, joyous and offbeat' **** (Chortle.co.uk). 'Bloody brilliant' **** (BeyondTheJoke.co.uk). A recent rejection from a writing job: 'their friendship is so powerful, and so long-lasting, it might unbalance the room'. As seen on BBC One, BBC Two, BBC Three and Channel 4, in spite of everything.
Sue Kelvin: Bette Midler and Me
Date: Aug 5-13, 15-21, 23-27
Time: 18:15
Venue: theSpace @ Symposium Hall - Annexe
Sue Kelvin stars in a tribute show to Bette Midler, covering her life and songs from the perspective of a lifelong fan. Including: Boogie Woogie Bugle boy, The Rose, From a Distance, I'm a Woman, Chapel of Love, Wind Beneath My Wings and The Glory of Love. Plus highlights from Midler comedy routines and an explanation of just how Bette inspired Sue to become a West End diva herself starring in Oliver, Les Miserables, Fiddler on the Roof and Wicked. Also, a puppet version of Beaches! A show that's heartfelt and hilarious in equal measure.
Christopher Bliss: Captain Words Eye
Date: Aug 3-16, 18-28
Time: 18:40
Venue: Pleasance Courtyard (Beneath)
Shropshire's worst writer pulls on his socks and sandals, irons his shell suit windbreaker, combs his curtains, and leaves Shropshire for the fifth time in his life to bring his fifth show to the Edinburgh Fringe. As seen on 8 Out Of 10 Cats Does Countdown teaching Suzie Dent about the English language. 'This is how character comedy should be done' **** (Chortle.co.uk). 'Deliciously Fun' (Guardian). 'One of the best character shows we've seen for a long time' (Comedy.co.uk). Warning: This show contains scenes that some viewers may find extremely nice.
Date: Aug 3-17
Time: 20:00
Venue: Pleasance Dome (Queen)
Tim Key (Alan Partridge, The Witchfinder, Tim Key's Late Night Poetry Programme) is back with an all-new show. Ruminations about the great indoors with a bit of stamping around. Velour tracksuit, continental lagers, some "poetry". Key's new book, Here We Go Round The Mulberry Bush is available to buy at all good bookshops. 'The greatest stand-up response to lockdown so far' ***** (Times). **** (Guardian).
Marcus Brigstocke: Absolute Shower
Date: Aug 3-13
Time: 20:00
Venue: Pleasance Dome (King)
Before launching his huge national tour, multi award-winning comedian Marcus brings this blisteringly funny hour of stand-up to the Edinburgh Festival Fringe. 'Devilishly Funny' (TheArtsDesk.com). This joyful show celebrates the personal triumphs and small victories of the past couple of years... while acknowledging it has, in so many ways, on so many days, for the most part, been an absolute shower of shit. 'Charming, hilarious and utterly refreshing. Don't miss this incredible show' (Sunday Mirror).
Date: Aug 3-29
Time: 20:20
Venue: Pleasance Courtyard (Baby Grand)
Finally allowed to reconnect with human people again, Edinburgh Comedy Award nominee Brennan has forgotten how to do it and needs your help. You'd think he'd be amazing with crowds after being on Live At The Apollo, Celebrity Coach Trip and Joe Lycett's tour. But the world just seems a bit much. Sounds really lockdowny doesn't it? But it's not. Promise. It's a show about you, me and all the others. 'If there is a future, I really hope that this is what its comedy looks like.' ***** (VoiceMag.uk). 'Hilarious' ****½ (Chortle.co.uk). 'Superb' **** (List).
Harriet Kemsley: Honeysuckle Island
Date: Aug 2-14, 16-25
Time: 21:10
Venue: Monkey Barrel Comedy (Carnivore 2)
Fed up with being told how to look and behave since she was a teenager, Harriet is taking a long hard squint at the beauty industry through her two remaining false eyelashes. As seen on Live at the Apollo, 8 Out of 10 Cats does Countdown, Hypothetical, Roast Battle, Guessable, As Yet Untitled, Comedy Central at the Comedy Store and Bobby & Harriet Get Married. 'At the dawn of her TV career' (Radio Times). 'Packs in high calibre jokes' (Guardian). **** 'A masterful hour' (Skinny).
Date: Aug 3-14, 16-24, 26-29
Time: 21:30
Venue: Gilded Balloon Teviot- Debating Hall
Double Edinburgh Comedy Award nominee. 'Furiously funny' (Times). 'One of the funniest men in Britain' (Telegraph). 'If you can only see one stand-up act, see Maxwell' (Mirror). He's the winner of the Time Out Award for Best Live Comic, Chortle's Best Live Comedian and Channel 4's King Of Comedy. As seen on Live at the Apollo, I'm a Celebrity... Get Me Out of Here, Have I Got News For You, QI, Mock the Week and the winner of Celebrity Mastermind. Andrew is also the voice of MTV's Ex On The Beach.
Date: Aug 4-28
Venue: Traverse Theatre
Duration: 80 minutes
Not all good things come to those who wait. One final night. One last chance. Five people queue for a ticket to the hottest show in town. All they must do is simply wait in line. But what in life is ever simple? Who will triumph, who will fail, and who will walk away with… The Last Return? A new play by acclaimed playwright Sonya Kelly (Once Upon a Bridge, How to Keep an Alien), The Last Return is a thrilling comedy about conflict, peace and the pursuit of territory at any cost.