EDINBURGH FRINGE FESTIVAL 2018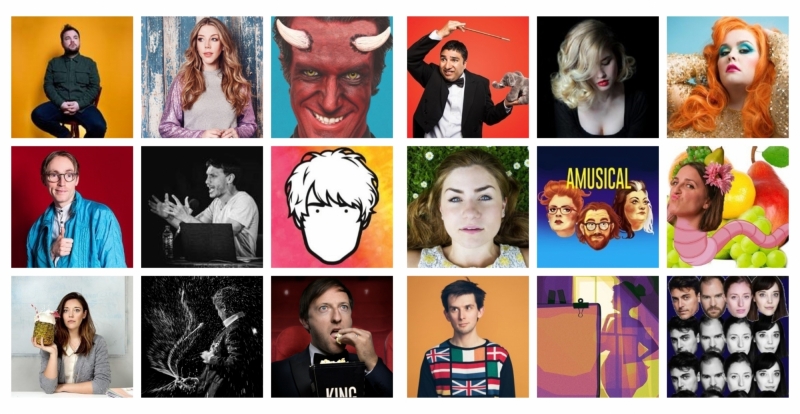 21:00 (1 hour)
Assembly George Square Theatre - The Theatre
A world-class hour of whip-smart personal and political comedy from everyone's favourite Irish funnyman and Celebrity Mastermind champion. Renowned for his cutting edge comedy and intrepid social commentary, Maxwell is also known as the voice of MTV's hit show Ex On The Beach, now in its seventh series. As seen on Live at the Apollo (BBC One), Have I Got News for You (BBC One), Celebrity Juice (ITV2) and Mock the Week (BBC Two).
20:15 (1 hour)
Pleasance Courtyard – Beneath
Ask most people to remember the early 70s and they won't. But for character comedian and tedious party guest Kieran Hodgson, they might hold the answer to the biggest question of our time: Europe? Twice nominated for the Edinburgh Comedy Award, Kieran returns to the Fringe with the epic tale of how Britain joined Europe in the first place. An overambitious hour of history, politics and enduring friendship punctuated by stunningly accurate impressions of dead politicians you've never heard of. ***** (Guardian, Telegraph). **** (Times, Sunday Times, Time Out, Scotsman). Leavers and Remainers welcome.
23:30 (1 hour)
Pleasance Courtyard
For one night only. Jayde Adams and Kiri Pritchard-McLean host this celebration of all things West End (or Broadway if you're American/better off than us). Accompanied by our house band, Dave and the Quavers, comedians perform their favourite songs from stage and screen and it's up to you to decide who's best. The winner takes home a smug sense of pride as well as closing the show with their ultimate encore song. Come, if you love comedy, musicals and comedians almost certainly getting horribly drunk to cope with the nerves of singing. Proceeds to Waverley Care.
23:15 (1 hour 10 mins)
Pleasance Courtyard- The Grand
A brand-new 70 minutes, blending poeticals, talking, standing, spotlights, cables, Kronenburg, foot-stamping and old-school wistfulness. Edinburgh Comedy Award winner years ago. Key has appeared in Taskmaster, Inside Number 9 and the Alan Partridge franchise. 'Flabbergastingly funny... I have never enjoyed myself in a comedy show more' ***** (Times). 'If this is love, Key's hard to resist' **** (Metro). 'Megadate is another Tim Key delight: delicate, yet a feat of comic strength' **** (Independent).
22:30 (1 hour)
Monkey Barrell Comedy Club
Due to filming commitments, Edinburgh Comedy Award Winner Richard Gadd could not write a new show this year and so is coming to the Monkey Barrel Comedy Club for ten dates in which he presents to you a collection of the "Greatest Hits" from all the shows you probably failed to see prior to Monkey See Monkey Do (along with some new bits). It should be an enjoyable affair for all involved bar the audience and himself. 'A hilarious adrenaline rush of misadventure' (**** Scotsman), 'Hilarious knocking over genre barriers and artistic borders' (**** Evening Standard), 'Funny, and frankly magnificent' (***** Fest), 'Wildly inventive' (**** Times), 'A true one-off... constantly riveting' (***** Telegraph), 'A mercurial talent to watch' (**** Independent)
22:20 (1 hour)
Pleasance Courtyard- Above
Catch this limited run with some rarely seen friends and the return of some firm favourites (you'd be RIGHT to expect good old Mr Swallow). About to voice a lead character in an upcoming Disney feature and to play a regular role in the new BBC / Netflix series Collateral, Nick is back for the first time since his sold out six-week smash hit run of Mr Swallow: Houdini. As seen in Ridley Scott's The Martian, Bridget Jones's Baby, Ab Fab The Movie, and The Sense of an Ending, take advantage of this rare opportunity to see the characters behind the man in Nick Mohammed: Characters. Further credits include BBC's Uncle, Miranda, Life's Too Short, Drifters (E4) and Camping (Sky Atlantic). 'Split-your-sides hilarious… Breathtaking.'
MARCUS BRIGSTOCKE: DEVIL MAY CARE
18:30 (1 hour)
Pleasance Courtyard- Pleasance Beyond
Snowflake. Remoaner. Libtard. Brextremist. Feminazi. Piers Morgan. As we divide each other up into more and more unpleasant categories of evil, it's time to establish, once and for all, what is good and what is bad. Brigstocke, multi-award-winning stand-up comedian, returns with a brand-new hour of comedy with a twist. As seen on Argumental, Live at the Apollo, Have I Got News for You and Mock the Week. 'If you haven't seen him live, then you haven't seen him at his very best' ***** (Mirror). 'Sharpest one-liner merchant' (Sunday Times).
18:00 (1 hour)
Pleasance Courtyard – Upstairs
After the sold-out success of Everglow and Everlong, English Comedian of the Year winner, Edinburgh Comedy Award nominee and voice of ITV's Survival of the Fittest is back with a lovely story from a loveable boy about loving things. Lovely. 'Unmistakable influences of Daniel Kitson' (Fest). 'A teenage Alan Bennett' (Skinny). 'Very polite passenger' (Uber). ***** (VoiceMag.uk, Define Arts, Glitterati, TheWeeReview.com). **** (Independent, Scotsman, Sunday Times, Herald, Chortle.co.uk, Evening Standard). Over six million YouTube hits. As seen on BBC, ITV and Channel 4. Rob Brydon, Joe Lycett, Jason Manford and Nick Offerman tour support.
18:30 (1 hour)
Monkey Barrel Comedy Club – Monkey Barrel 2
2017 Edinburgh Comedy Award Best Newcomer nominee Lucy Pearman returns with a new show. Pearman brings the story of a worm who has misunderstood her existence. As seen on Spencer Jones The Mind Of Herbert Clunkerdunk on BBC and heard on Tim Key's Late Night Poetry Programme BBC Radio 4. 'First steps on the road to household name' **** (Sunday Times). 'Silent marvelling at the sheer cleverness... Blooming marvellous' **** (Fest). 'Almost impossible not to laugh' **** (Scotsman). 'Pearman is excellent' (Bruce Dessau, Evening Standard).
20:00 (1 hour)
Edinburgh Playhouse, Edinburgh
This Canadian abroad is the UK's 2017 break out star. Katherine recently garnered rave reviews as the presenter and writer of Channel 4s critically acclaimed prime time series, How did you get so rich?, and also regularly appears on all the UKs major panel shows from BBC's QI, Have I Got News For You and Live at the Apollo to Daves Taskmaster series 2 (Which she won) and Channel 4's 8 out of 10 cats as wel as co-hostin two back to back series of Comedy Centrals upcoming Your face or mine reboot with Jimmy Carr.
I SPY WITH MY LITTLE EYE SOMETHING BEGINNING WITH WHY HAVE YOU BEEN SLEEPING WITH MY WIFE
19:00 (1 hour)
Pleasance Dome – 10Dome
Award-winning comedian Rob Carter's cult-hit creation, Christopher Bliss, is back. The worst novelist in Shropshire has written, directed, and cast himself in his first ever play, alongside both of his friends. 'One of the best character shows we've seen for a long time' (Comedy.co.uk). 'This is how character comedy should be done' **** (Chortle.co.uk). 'Pant-wettingly funny' **** (Fest). As seen in Channel 4's Peep Show and Fresh Meat and BBC's Siblings. #ISWMLESBWWHYBSWMW
LLOYD GRIFFITH MUCKS ABOUT ON STAGE FOR ROUGHLY ONE HOUR. NO REFUNDS (WIP)
19:15 (1 hour)
Pleasance Courtyard – Beside
Lloyd Griffith comes back to his favourite Scottish capital to muck about and try some new jokes for his new tour. Expect a bit of incredible choral singing too and possibly some party tricks to pad out the hour. You'll laugh though, don't worry. Host of 'Soccer AM' (Sky), host of 'Taxi To Training' (BBC3). As seen on 'Live at The Comedy Store' (Comedy Central), 'Bounty Hunters' (Sky), 'Drunk History' (Comedy Central), 'The Premier League Show' (BBC), and 'Strictly Come Dancing' (one day) Jack Whitehall and Rob Beckett's tour support and Diane Griffith's son.
MR SWALLOW AND THE VANISHING ELEPHANT
19:30 (1 hour)
Pleasance Courtyard – Pleasance One
Following the five-star, sell-out success of Houdini, Nick Mohammed's alter ego Mr. Swallow is back with another hour of magic, music and elephants. 'Breathtaking' ***** (Guardian). 'Comic perfection' ***** (Stage). 'Split-your-sides hilarious' ***** (Evening Standard). 'Monstrously funny' ***** (Metro). Star of Ridley Scott's The Martian, Bridget Jones's Baby, Ab Fab: The Movie, Netflix's Collateral and Disney's upcoming feature Christopher Robin. Further credits include BBC's Uncle, Miranda and Cuckoo, Drifters (E4) and Camping (Sky Atlantic). 'Mr. Swallow is a sublime comic creation' (i). Book early to avoid!
16:40 (1 hour)
Underbelly, Cowgate – Big Belly
It's hard keeping it together when your whole life is falling apart. But the pressures of teaching, Tinder and outrageous Irish best mates are a lot to juggle, especially when you're stumbling through the maze of trying to be a grown-up. Stranger danger, heartbreak and piña coladas are on the syllabus in the hilarious debut play Pickle Jar, written and performed by Maddie Rice, the critically acclaimed star of the smash-hit Fleabag UK and international tour. 'Maddie Rice is captivating' (Guardian). 'Maddie Rice oozes presence and exquisite comic timing' ***** (Fest). Directed and developed by Katie Pesskin.
Hayley Jayne Standing & Katherine Parkinson
15:15 (1 hour)
GIlded Balloon Teviot – Dining Room
'Do you even need me here? I think you do. Actually.' Luke, Cassandra and Mary are sitting. They sit weekly for their portraits and, in a series of revealing sessions, end up sharing their funny and moving tales of love, longing and loss. Sitting is the debut play by BAFTA Award-winning actress Katherine Parkinson. Her many credits include The IT Crowd, Doc Martin, The Honourable Woman and Humans.
17:55 (1 hour)
Voodoo Rooms – French Quarter
Multi award-winning comic Harriet Kemsley pulls her skirt out of her pants and shames slut shaming. In a Cornell University study women rated fictional female peer, Joan, as emotionally unstable and less competent because she was sexually promiscuous. If Joan wasn't fictional her name would be Harriet Kemsley and in this deeply personal show Harriet delves into her sexual history. Star of Bobby and Harriet Get Married, Comedy Central's Roast Battle and Katherine Ryan Tour support. 'A quirky, refreshingly charming comedian at the dawn of her TV career' (Radio Times). 'Joyful' **** (Scotsman). 'Effervescent' **** (EdFestMag.com).
21:30 (1 hour)
Pleasance Courtyard – Pleasance Two
Edinburgh Comedy Award Best Newcomer nominee 2016. Comedian Jayde Adams is going full diva with glorious gowns, acerbic charm and show-stopping music by Olivier Award winner Richard 'Jerry Springer: The Opera' Thomas. Directed by Matt Peover. The (Scottish) Sun's Best Female Comedian winner 2017, The (Scottish) Sun's Best Show of Edinburgh Fringe winner 2017, Chortle Best Newcomer nominee 2017. 'Fearless' **** (Independent). 'Unmissable' ***** (ScotsGay.co.uk). 'Highly original' ***** (ThreeWeeks). 'A phenomenal talent. Genius' ***** (ITalkTelly.com). 'Outrageous' (Guardian). 'Jayde Adams is the third funniest woman in the world. Fact' (Dawn French).
13:45 (1 hour 20 minutes)
Assembly George Square Studios – One
August 5, 1962. Marilyn Monroe is found dead! Official verdict: probable suicide. Seven people are present from 22:30 before police are finally called at 04:30. What do they discuss? In the style of 12 Angry Men, all the known facts are brought together, lies exposed, myths debunked. Was it suicide? Was it the Mafia... the CIA? Or was it Bobby Kennedy? With so many unanswered questions, this is the first time the probable truth has been exposed on stage. Revealing! Shocking! Brutal! Unmissable! Co-writers: Vicki McKellar and Guy Masterson, who also directs.
zazU- Maddie Rice, Nick Read, Tom Machell
22:35 (1 hour)
Underbelly, Bristo Square – Buttercup
Award-winning comedy troupe zazU presents zazUtinany, an absurdly silly comedy game show incorporating live acts, games, a quiz and even some cheeky prizes. Come as a team, come on your own or come with your pet (no pets allowed) – either way that infamous Haribo trophy could be yours. Expect men with fringes, exquisite choreography and answers to questions such as 'so it's basically shooting stars, right?' (Anon). 'Talented cast' ***** (ThreeWeeks). 'Quick and clever' **** (BroadwayBaby.com). 'Crazy comedy that will have you falling off your chair' ***** (Londonist.com).
Back to News