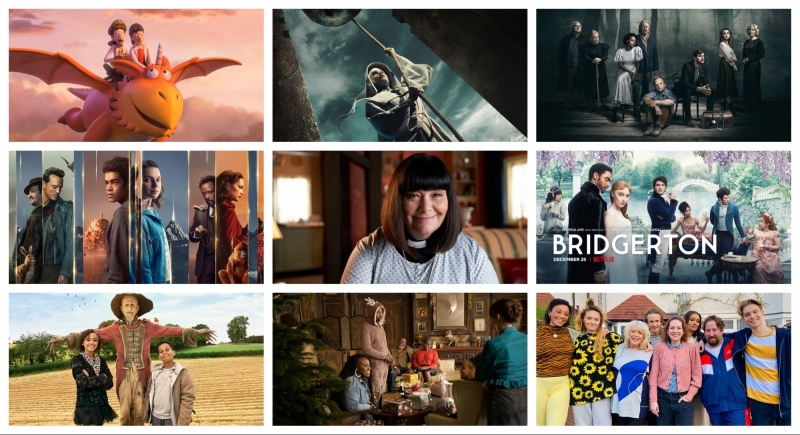 This year's been a strange one, but there's still plenty of festive TV and film, starring a whole host of United Voices clients!
THE SAVOY AT CHRISTMAS narrated by Celia Imrie
Thursday 17th December at 9pm on ITV
Filled with glamour, elegance, history and character and truly the first luxury hotel in Britain, The Savoy has sat alongside the River Thames for over 130 years. It has hosted rock stars and royalty, Oscar winners and prime ministers and is now opening its famous revolving doors to the cameras for this brand new Christmas Special.
The festive season is the busiest time of year. Across the hotel, every department is preparing for the rush and the hotel is fully booked.
HIS DARK MATERIALS starring Jade Anouka
Sunday 20th December at 7.10pm on BBC One
As all paths converge on Cittàgazze, Lee is determined to fulfil his quest, whatever the cost. Mrs Coulter's question is answered, and Will takes on his father's mantle.
WHO WANTS TO BE A MILLIONAIRE: THE MILLION POUND QUESTION narrated by Stephen Mangan
Sunday 20th December at 7pm on ITV
A look back at the 2006 win of Ingram Wilcox as he relives his most memorable moments from the game that changed his life.
THE VICAR OF DIBLEY IN LOCKDOWN starring Dawn French
Monday 21st December at 8.50pm on BBC One
As Christmas approaches, the vicarage is looking suitably bedecked. The vicar contemplates what has been a very strange year. She remembers how the good folk of Dibley have been equally challenged in earlier times by wild animals and by a series of witch trials, but this has been an especially bad year. The Dibley nativity play has had to be cancelled, but Geraldine has nevertheless written a special nativity poem which she now reads to us all.
ALL CREATURES GREAT AND SMALL starring Samuel West
Tuesday 22nd December at 9pm on Channel 5
It's Christmas Eve and the day before Helen and Hugh's much anticipated wedding. James is trying to bury his pain over Helen and has invited his new girlfriend Connie to the annual Skeldale Christmas party. Preparations are well under way, Tristan has decked the halls with mistletoe and Mrs Hall has laid on a feast and is looking forward to her son Edward returning for Christmas. Siegfried is delighted when Dorothy turns up and wonders if now is the time to throw caution to the wind.
MOTHERLAND starring Diane Morgan
Wednesday 23rd December at 9pm on BBC Two
It's time for Amanda's festive soiree (dress code: tinsel and tiaras), and nothing says Christmas like evil Santa, Anne's Christmas cocktails and a ban on dark drinks indoors.
JENNIFER SAUNDERS' MEMORY LANE presented by Jennifer Saunders
Wednesday 23rd December at 9pm on ITV
Jennifer Saunders slips behind the wheel of a classic red Jaguar E-Type for this special show for ITV.
Joined in the passenger seat by guest Hollywood actor Michael Sheen, Jennifer drives him on an emotional journey through his own past. With cameras inside the car, every intimate moment is captured as Michael and Jennifer visit places and people that have helped shape the global star he is today.
FIRST DATES AT CHRISTMAS narrated by Brian Protheroe
Wednesday 23rd December at 9pm on Channel 5
First Dates at Christmas will feature Fred Sirieix and his team swapping London for the beating heart of the British countryside for festive fun and romance this year. In festive First Dates spirit, the guests will wine, dine and get merry as Fred and company end the night with a Christmas toast.
GHOSTS OF CHRISTMAS starring Jim Howick
Wednesday 23rd December at 8.30pm on BBC One
Mike is determined to host the perfect Christmas for his family, and Julian has a revelation that could help the ghosts rediscover the real message of Christmas.
WORZEL GUMMIDGE starring Spencer Jones
Thursday 24th December at 5.55pm on BBC One
Susan and John visit a scrapyard, where they meet Worzel's old friend Saucy Nancy. She is a carved ship's figurehead, and she wants their help to get back to the sea.
CINDERELLA: A COMIC RELIEF PANTOMIME FOR CHRISTMAS starring Olivia Colman
Thursday 24th December at 8.15pm on BBC Two
The worlds of theatre, film, comedy and music collide as Comic Relief presents a brand new 'stay at home' adaptation of the pantomime Cinderella!
The timeless classic, rewritten by the award-winning Dawson Brothers and produced by Richard Curtis, sees a host of A-list stars take on some of the most iconic roles in panto.
ROALD & BEATRIX: THE TAIL OF THE CURIOUS MOUSE starring Dawn French, Alison Steadman and Nick Mohammed
Thursday 24th December at 8.15pm on Sky One
A heart-warming Sky original inspired by the true story of when a six-year-old Roald Dahl meets his idol Beatrix Potter.
A BABY REINDEER'S FIRST CHRISTMAS narrated by Dawn French
Thursday 24th December at 6.40pm on Channel 4
Whenever you see a reindeer at a festival event, it's likely come not from Lapland but the Cairngorm mountains in Scotland. This documentary takes us to the stunning Scottish Highlands to a community of dedicated herders who live alongside their antlered wards, and follows a group of young reindeer preparing for their first ever Christmas in a year like no other. Even in the shadow of Covid-19 and the worry that some of the biggest events in the festive calendar will be cancelled, the Cairngorms team go to great lengths to ensure the unique process of nurturing and training the herd isn't disturbed.
BRIDGERTON starring Matthew Cottle
Streaming from Friday 25th December on Netflix
Wealth, lust, and betrayal set in the backdrop of Regency era England, seen through the eyes of the powerful Bridgerton family.
ZOG AND THE FLYING DOCTORS starring Daniel Ings
Friday 25th December at 2.35pm on BBC One
Zog and Gadabout try to rescue Princess Pearl, who has been locked up in her father's castle. Based on the book by Julia Donaldson and Axel Scheffler.
CALL THE MIDWIFE starring Nancy Crane
Friday 25th December at 7.40pm on BBC One
The circus comes to Poplar, putting a magical spell on its residents. A delighted Shelagh is reacquainted with an old friend, and Trixie receives an unusual gift.
BLACK NARCISSUS starring Kulvinder Ghir
Sunday 27th December at 9pm on BBC One
Sister Clodagh and the sisters of St Faith start a school at the mysterious palace of Mopu, helped by Mr Dean. But is the palace haunted?
TWO DOORS DOWN starring Kieran Hodgson
Monday 28th December at 9pm on BBC Two
A Christmas holiday break at Colin and Cathy's luxury lodge in the Scottish Highlands threatens to derail the neighbours' friendship when Cathy pushes Beth too far.
CELEBRITY: A 21ST CENTURY STORY narrated by Diane Morgan
29th, 30th, 31st December 2020 and 1st January 2021 at 9pm on BBC Two
The world of celebrity has been transformed since the turn of the century, driven by some of the most dramatic technological and cultural developments in recent times. From the fame farms churning out reality TV stars to the rise of the celebrity politician, our complicated obsession with fame now impacts every aspect of our lives - from the things we read and watch to what we buy, and even who we vote for.
Today, celebrity is currency, but fame can also come at a cost. We hear from the people pulling the strings and the celebrities themselves as they lift the lid on the inner workings of the fame game.
PANDEMONIUM starring Jim Howick and Alison Steadman
Wednesday 30th December at 9.45pm on BBC One
2020 has been an absolute nightmare for the Jessop family. To boost family morale, they decide they are going to have a summer holiday after all, even if it is in Margate in October.
UNCLE VANYA starring Richard Armitage and Dearbhla Molloy
Wednesday 30th December at 10pm on BBC Four
Drama filmed in London's Harold Pinter Theatre. Secret loves and long-held resentments threaten to tear a family apart in Anton Chekhov's classic play, a tender exploration of human frailty.