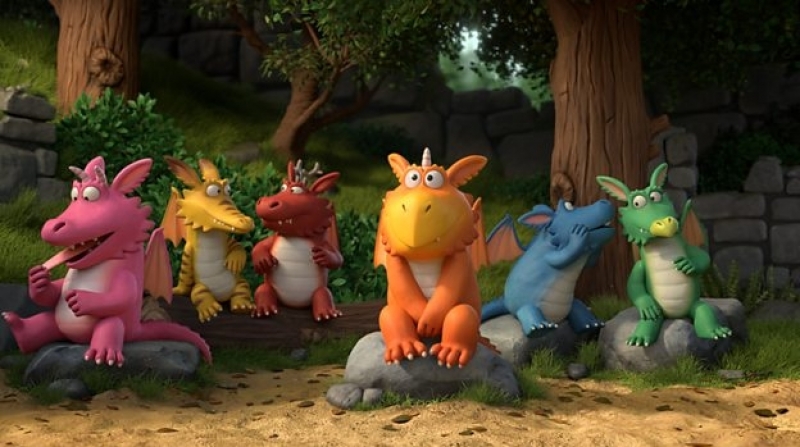 Animated adventure Zog sees author Julia Donaldson and illustrator Axel Scheffler's accident-prone dragon come to life featuring a stellar voice cast, including Kit Harington as Sir Gadabout.
From the people that brought you The Gruffalo, The Gruffalo's Child, Room on the Broom, Stick Man, The Highway Rat, and Roald Dahl's Revolting Rhymes comes ZOG.
A half hour animated film for all the family based on the much-loved book, Zog tells the tale of a clumsy young dragon who longs to win a gold star at Dragon School.
He's the keenest pupil and he tries as hard as he can to learn to fly, roar and breathe fire. But every year the gold star eludes him when his valiant efforts end in mishap and a kind young girl with medical ambitions finds him and patches up his bumps and bruises. Then in Year Four all the young dragons are instructed to capture a princess.
Zog tries and tries but still he can't manage. When he meets the girl, she reveals that she is in fact a princess. She is desperate to escape the confines of her strict palace upbringing and allows Zog to 'capture' her. He finally wins the coveted golden star.
In Year Five the dragons learn to fight, at which moment a bumbling knight, Sir Gadabout the Great, arrives, claiming he is going to rescue Princess Pearl. Zog and Gadabout square up for a fight about who is going to keep Pearl.
At that moment Pearl stops them, tells them off for fighting, and reveals that she doesn't want to be a princess, she wants instead to be a doctor.
Realising his chance to change his destiny as well, Gadabout says he'd like to join her and asks her to train him up. Pearl even works out how to include Zog as their special flying ambulance. All three, Princess Pearl, Sir Gadabout and Zog, defy the expectations of their upbringing and set off into the sunset to make the world a better place - "The Flying Doctors waving as they zigzagged through the blue."
Zog is on Christmas Day at 16.50
Back to News